Welcome to our "Why SEO is DEAD" video and what works with Online Advertising today!
I think you will discover we are different as we like to explain what is working and what isn't plus as you discovered we are really good at what we do!  In addition, our methods are also safe and VERY effective…
Watch the video and connect with us!
To "YOUR" Advertising Success,
Michael and Kendall
"Our Images may NOT be serious, but OUR Online Advertising IS"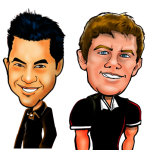 SKYPE:  michaelmattos
Cell:  (949)791-7656